Overview
We needed an ad. to encourage our customers to upgrade their basic subscription to chemical subscription.

Basic pHin subscription

monitors water quality and gives recommendation on how to maintain pool/hot tub water, while

chemical subscription

gives recommendations and also 

ships

 the chemicals they need to their door. 
Basic subscriptions makes a small margin for the company while converting each basic to a chemical subscription makes the margin 3x more. Also our data shows customers with chemical subscription renew their sub for average 3 years while basic subscribers churn after the first year. 40% of pHin customers have basic subscription and are target of this ad.
The ad was to appear on the subscription screen of the pHin mobile app (where users usually checks their subscription status and remaining time/chemicals.) The "learn more" button would take the user to a screen with more information about the benefits and pricing of the chemical subscription. 
Length of Project: 1 week
The Challenge
I wanted to capture the convenience of having chemicals delivered to user's door, while also showing a sparkling clean water in the frame. Taking a photo with such constraints was above the budget (not mentioning the winter photoshoots of a pool never gives us the lights and sparkles we wish). Considering these limitations, I went for an illustrated scene. 
Outcome
An eye catching, minimally animated illustration, with a color theme that highlights the CTA bold and clear. We sent out this ad along with another marketing campaign to promote the upgrade. In the first 24 hours of launching the campaign we had about 300 customers converting to the chemical subscription through the app.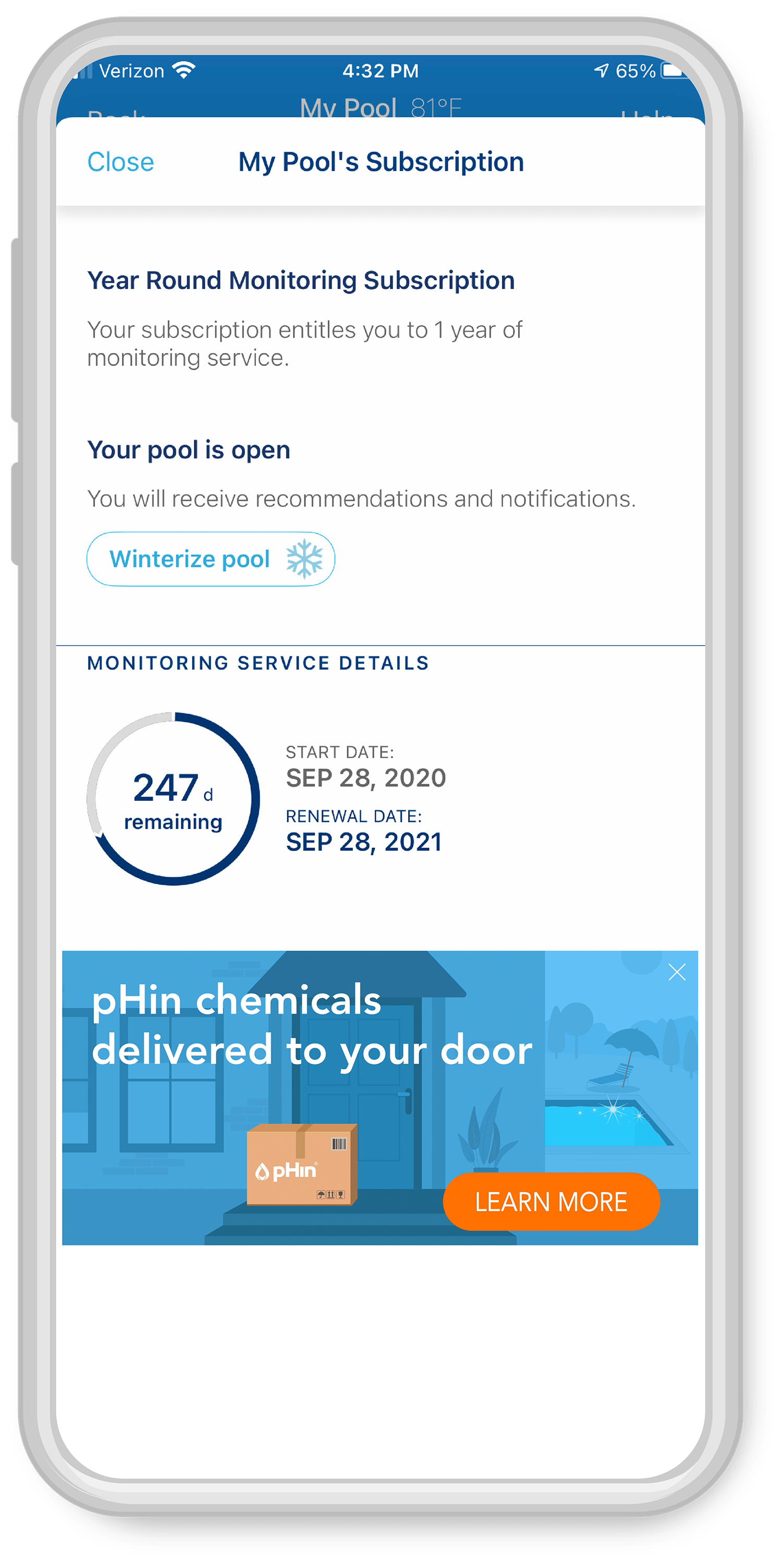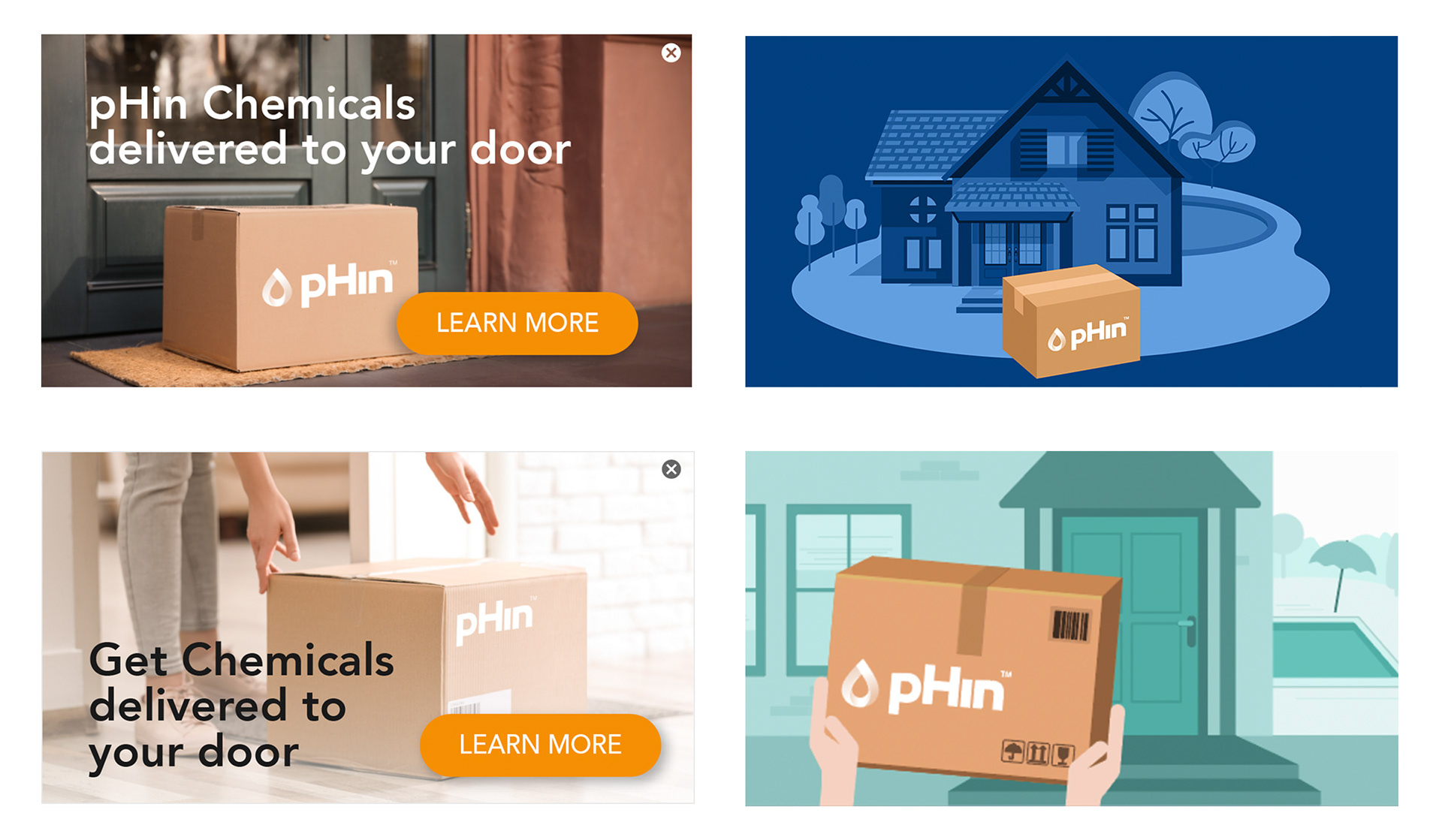 pHin mobile app doesn't use many photos, so our team decided to make the ad with a real photo so it does stand-out. My plan was to find the perfect front door image and then I'll take a photo of the box in the matching angle and photoshop it in. I searched several stock images platforms but it was almost impossible to find a nice front door photo that shows a glimpse of the pool in the backyard.
So I changed the direction to using illustration and build the scene I needed. I also tried a variety of color themes. 
All the illustrations are vector (created and layered in Adobe Illustrator) for animation capability.

This is the illustration I landed on. Limited color palette of blue shades to make a stark contrast with the box. And an inviting sparkly pool shining in the back.
Animation
Next, I added some animation to make it pop more. Animation idea was as simple as an "excited" box at the door and a "sparkling water" in the back. I tried several moves for the box, and finally selected the one that looked seamless while looping. This was confirmed using a limited internal A/B testing.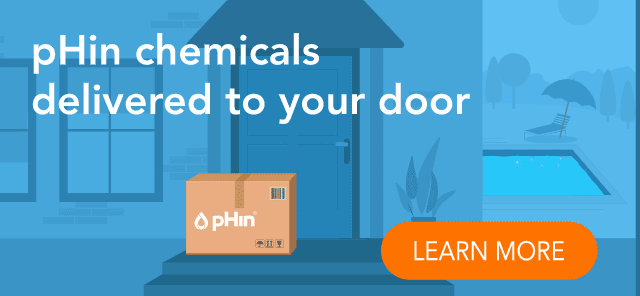 For both iOS and Android we used Lottie format.